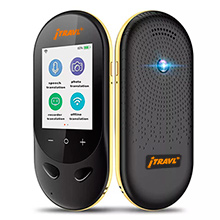 Long Island City, NY. Fast, Efficient, and More Powerful: Today, mobility is extremely important. With the ECTACO iTRAVL 3 mini Voice Translator you can translate wherever you are; in the park, house, train, airport, walking, eating ... wherever. https://www.ectaco.com/ectaco-itravl-3-mini-multiLingual-offline-voice-translator
The iTRAVL 3 mini is the world's most advanced and only professional offline voice translator and travel assistant. iTravl 3 mini translates using natural human voice tones. Offline and no need for an internet connection,speak any of the 8-languages freely with the iTRAVL 3 mini!
This is an exceptional voice translator for exceptional situations.
iTRAVL 3 mini unit comes preloaded with the following language pairs:
English -> Chinese, Chinese -> English;
English -> French, French -> English;
English -> German, German -> English;
English -> Japanese, Japanese -> English;
English -> Korean, Korean -> English;
English -> Russian, Russian -> English;
English -> Spanish, Spanish -> English;
You can also use it for cross translation between 8 languages in offline mode, for example Russian->Spanish or German->French etc.
Representing a new generation of voice translators and travel technology, the Ectaco iTRAVL 3 mini is the most powerful & robust talking interpreter travel tool to simplify communication. With its unique features, flexibility and great capacity for customization, the iTRAVL 3 mini is an indispensable gadget for anyone who encounters people with limited or no English speaking ability. Capable of working offline without Internet connecton and instantly translating voice in 8 different languages, the iTRAVL 3 mini will replace existing electronics frequently used by travelers including a smartphone, cell phone, laptop, radio, onine voice translators and more.
Contact Robert at 347-770-2047 for further information.