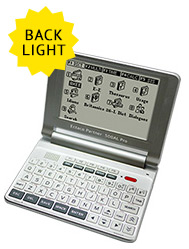 Meet our brand new multilingual talking dictionary: the ECTACO Partner 500AL Pro.
It represents the latest generation of the ECTACO 500 series and includes the most recent innovations! This unique device has easy to read Large 4.3" Black & White Screen with Backlight and preloaded with talking dictionaries for 26 languages:
Arabic, Chinese, Croatian, Czech, Danish, Dutch, English (US), English (British), Finnish, French, German, Greek, Italian, Japanese, Korean, Norwegian, Polish, Portuguese (Brazilian), Portuguese (Iberian), Russian, Spanish (Iberian), Spanish (Latin American), Swedish, Thai, Turkish, Vietnamese
All you need is to pick the language pair and start typing. The word you type in will be found and translated to the language you choose.
With an unbeatable 2,000,000 entry database and the most important phrases necessary for immediate communication, the 500AL Pro model contains an absolutely massive amount of information to help anyone understand the world around them. Perfect for the student or visiting relative in your life, this smart device can pronounce words and phrases using a real human voice as recorded by native speakers and lets you type in any words in English in order to have it translated into another language and vice versa.
The Partner 500AL Pro has an English interface which is very user-friendly and allows navigating through the menu effortlessly. Featuring an advanced Look-Up function and a Word Recognition utility, the device helps you find any word in its massive database instantly. Several exciting linguistic games have also been included to help you memorize new words as you play.
Other great features include Oxford Advanced Learner's Dictionary, Collins Cobuild Idioms Dictionary, Britannica Concise Encyclopedia, the World Time utility, built-in calculators, as well as currency and metric converters to be truly useful travel partners.
Click here to get more information on the new Partner 500AL Pro.