Meet the first-ever Free Speech Translator - ECTACO Partner LUX 2 which has been specifically designed to translate any spoken words and phrases. This palm-size gadget represents the latest generation of talking electronic translators and proves to be one of the best language learning systems on the market.
This multifunctional learning device has everything you need for Language Learning, Language Studies, Entertainment, Internet, Social Networking, News, Foreign Language Communication, Reading and Games.
This is the most advanced unit ever created while maintaining a user friendly interface, touchscreen, and a full QWERTY convertible keyboard.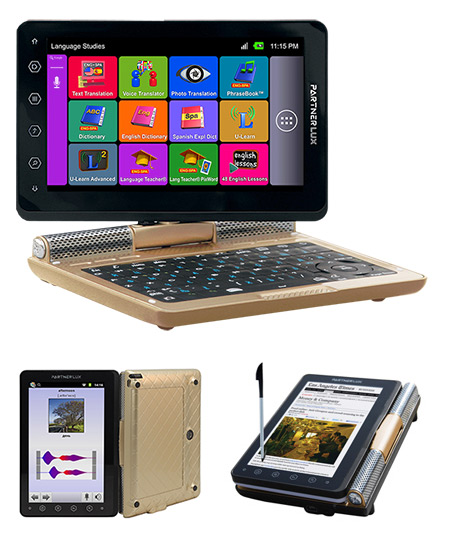 The ECTACO Partner LUX 2 features the following:

Connect the LUX 2 to your TV through an micro-HDMI port and watch your favorite videos online or learn languages with built in Video Courses
Photo Translator. Quickly snap a pic of any text you see and have it translated instantly, no internet connection required
Free Speech Translation
Compatibility with Android OS
Hi-Res Screen and Wi-Fi
Full Text Translator with voice output
Interactive Language Teacher system with speech recognition
Extensive Talking Dictionary and PhraseBook with human pronunciation
ECTACOŽ Market - get additional language combinations for your Partner LUX 2
Talking Picture Dictionary with pronunciation for all words
UT183 Cross Translator for 183 languages all built-in
English Grammar course, American Idioms and Irregular Verbs
Video courses - interactive course of American English
TOEFL Preparation - offers materials to help you prepare for the TOEFL test
US Citizenship test - practice the Citizenship Civics Test
Games: Chess, Virtual Table Tennis 3D, Dominoes, True Or False Trivia, Connect'm Free & Sudoku Free
Smart QWERTY and Virtual Keyboard with voice input
Video player with AVI, MOV, WMV, FLV, MP3, WMA, WAV, OGG, JPG, GIF, PNG, BMP support
Voice Recorder
Calculator
SDHC card support of up to 32 GB
And much more!
You can also download additional Ectaco language applications directly from the Ectaco website with more than 250,000 free apps available via 1 Mobile Market to the Ectaco Partner LUX 2 electronic translator.
Order any LUX 2 model listed below at a special promo price direct from the manufacturer and get the LUX2 Accessory Pack ($100 value) absolutely FREE!
These promo prices and offers are valid only until 29 September 2023.
Multilingual Partner LUX2 series electronic translators:
Bilingual Partner LUX2 series electronic translators:
Bilingual Partner LUX2 PRO series electronic translators:
These promo prices are valid only until September 29, 2023 only in conjunction with your online order at Ectaco.com.
Hello, everyone! My name is Jerry, the company is Ectaco... so you know I have something great to show you today!
This is the brand new partner LUX 2. It's the latest and greatest in language learning and travel technology. It's a completely feedback driven machine which is based off of the Partner LUX 1. You'll notice a lot of similarities between Partner LUX 2 and Partner LUX 1, mainly the design is very similar. It has a laptop mode, has a tablet mode. You can twist the screen, pop it down like that, use it in tablet mode, and it has all the same great voice recognition and language teaching programs on there. For one you can press a button, you can say anything you want in one language it will translate it for you into another or vice versa. This is great for communicating with locals if you're in Spain, Germany, basically anywhere that you're going to need to travel. Additionally there's a program on here called language teacher. language teacher can teach you an entire language from start to finish, and it uses voice recognition. I'll actually get into that in just a second.
Now Partner LUX 2 has a ton of new features; both hardware and software. you'll see a computer monitor sitting right next to me, and the reason for that is that you can actually hook up the Partner LUX 2 to a monitor using an HDMI cable. I just turned it on and WALA there you go. This is a great if you need just a bigger monitor, if your eye sight may be a little bit poor you can utilize that. If you're a teacher teaching in a classroom you can put Partner LUX 2 on a big screen TV, a projector, basically anything with an HDMI cable.
Now you may be wondering about some love the new programs on here. one of them is a photo translator. let's say you're walking down a street in Italy and you see a great big sign in Italian and you want to know what does that sign say. Well you can use the camera that's actually integrated on the Partner LUX 2, take a picture the sign, and it will translate for you. now I have just a short thing of text right here on this piece of paper and I'll show you how it works. I'm going to photo translator which is that app right there. We're going to select photo text and now I'm going to use my finger on the touch screen and just make sure the text is in the frame. Just like that is perfect. now I'm going to press the blue button up top. It's going to take a second or two to process. you'll see it on the screen and there it is; that's in English. now to get the translation we're going to press the green check mark. now translate, and instantly it translates just below for you in Spanish. If you want to hear it, you can press the menu button, and Say.
Now I promised to show you guys language teacher if you want to see it just as a refresher, we'll go back. Language Teacher is there. It's actually the purple icon right here, on the screen. We'll Learn Spanish and it has a bunch of different difficulty levels, so if you're just starting off alphabet and words is good for you, if your more advanced phrases and dialogues is also good. We'll go to words. now we can just say a word and it will show us our vocal output here, and it will basically write our pronunciation. So I'm going to press the microphone button, "Manana". Ok so I need a little bit of work, but you can see where I stressed more towards the end rather than drawing it out along the entire word.
Now I showed you language teacher to tell you about language teacher 2. Language Teacher 2 has about 6 to 8,000 different words, and it just trains the words in the different language into your memory; it will really drill them in there and that's the program you see right here. so it's got a little graduation cap picture there. What's great about Language Teacher 2 also is that you can select which category you want to learn with. So after I press learn Spanish you can see the different categories. We'll go back.
The next program I'll show you is U-learn. that's the one right here with the little "L". U-Learn is a completely hands-free and eyes-free program. So, you can basically use it when you're doing just about anything. It's also voice interactive so you don't have to touch the screen or anything, you just start U-Learn and it's good to go. U-Learn 2, which is down here, is an extension of that. That's also a new program that's exclusive to the Partner LUX 2.
If I swipe my finger on the screen here you see another thing that's new to the Partner LUX 2, which is the Word-of-the-Day. It's right down there and if you've seen that word before, you can just tap on it, and it will change to another one. don't forget about all the other programs that are on the Partner LUX 2. You have a dictionary so you can look up the word, you can see the translation in another language, all voice output so you can hear the word. There's idioms on here, irregular verbs, language teaching courses, just about everything that you're going to need.
Now I'm showing it to you in Spanish, but we do have over 40 languages currently available, and don't forget I touched on just a fraction of what this device can do. You can even download more programs in an application store if you wanted to. You can find this device and more at www.ectaco.com.
We provide FREE shipping within the continental US on ANY item $98 or more!
We provide worldwide delivery.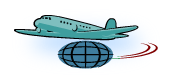 Shipping cost is determined by the weight & size dimensions of your purchased items, the distance between our warehouse and your shipping address, and how quickly you request the package be delivered.
Second business day delivery within the continental US is available for an additional $25.
Overnight delivery within the continental US is available for an additional $35.
We provide standard delivery to Europe & other parts of the world at no additional charge.