Contact us anytime! Give us a call at 1-347-770-2047 or to email.
How to translate:
Enter the word or paste it from the buffer into the window for translation. Press the corresponding "Translate into" button.
To delete - press the "Clear" button.
Part of speech abbreviations list.
For hints and advice on how to get accurate translations click here.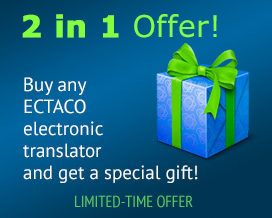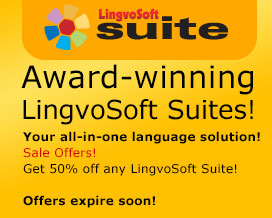 Partnership program

Become an Ectaco Online Dealer:
Earn 15-20% sales commission on Ectaco dictionaries via a text link
Ectaco, Inc. takes care of everything
Real time sales statistics
No costs from your side!

More information
Subscribe to news
Learn about new ECTACO dictionaries and translators.
Keep informed about the best discounts and gifts from the manufacturer!
Subscribe for free:

English -> MultiLingual Online Dictionary - a Bilingual Dictionary from ECTACO
Welcome to the ECTACO English - MultiLingual Online Dictionary! Please be our guest here as we invite you to experience what our comprehensive language databases can do for you. Designed so that you can receive immediate back-translations with ease, we will help you increase your understanding at the same time as providing the answer to your question. Simply give us a word, and we'll do the rest! Once you experience the ease and power of using online dictionaries, you'll like it so much that we think you'll become a regular visitor. Enjoy!
---
This ONLINE DICTIONARY will be the perfect addition to your site, FOR FREE!
To find out how, please Click here.








Special Offer!

Buy the ECTACO Partner 900 PRO Galaxy Multi 31 language and get the Accessory Pack ($100 value) as a gift! More info


The Largest Collection of Free Online Translation Services
Free On-line Dictionaries
Free On-line PhraseBooks