Price: $9995
English <-> Spanish Talking Text Translator – Translate Anything Offline
Here is a perfect translating solution provided by Ectaco - the LingvoSoft English <-> Spanish Talking Text Translator for Windows which allows translating entire paragraphs of any text you scan in English or Spanish. Simply swipe this Ectaco MagicScan over a line of text and have it translated immediately both ways.
Main Features:
The latest vocabulary base which includes technical, medical, legal and other specialized terms
Customizable font style and size
Multilingual interface with a choice of English, French, German, Spanish or Russian languages
Automated cut and paste translation
Tools panel in every window
Saves original text and translations in separate files
Ectaco Magic Scan Scanner - Your Personal Graphic Communicator
Pick up text and pictures almost anywhere and have them uploaded directly to your computer, it's that easy! This portable scanner is a perfect tool for anyone looking to convert print to digital. It's quick, hassle free, and fits right into your pocket.
SCAN JUST ABOUT ANYTHING IN A MATTER OF SECONDS!
Main Features:
300dpi Magic Scan Scanner
Quick and efficient scanning
Easy to use functions
Lightweight and portable, carry it with you anywhere
New style mini Scanner
Over 27 languages supported
Insert scanned photos to your PC automatically
Communication direct, Picture direct, OCR direct modes
Scan pictures and insert them directly into MS, Yahoo, Skype and QQ on your computer
You can share your every moment and ideas with friends using pictures and drawings
OCR Direct mode:
Scan any pictures with words to have them converted into text using the provided OCR software.
The scanned text will be automatically inserted into MS Office, MS Outlook, Wordpad, etc. on your computer.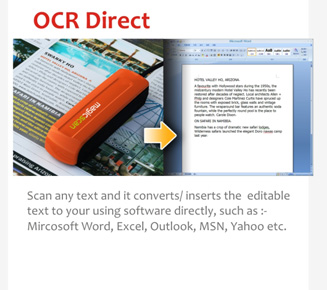 Picture Direct mode:
The handy scanner allows scanning a picture which you can insert directly into MS Office, MS Outlook, Photoshop and Drawing tools on your computer.
This is a real time-saver!
Specifications:
Insert scanned text and photos to your PC automatically
Scanning resolution: 300X300 DPI
Scanning width: 2.12 in (54 mm)
Scan articles/business cards/small photos
Scans via USB
Recognition rate at 97% or above
Fast and convenient way to scan, archive and organize
Lightweight and portable, take it with you anywhere
Optical Character Recognition (OCR) software included, converts scanned files to editable file formats. Auto stitch scanning software included, auto stitch scanned files to a bigger picture
System requirements: Windows XP (SP2), Windows 7, Windows Vista, Windows 8
Dimensions: 3.6 x 1.0 x 0.8 in (91 x 27.5 x 20 mm)
Weight: 0.7 oz (20g) approximately
Available Colors: Black, Red and Blue
The Ectaco Magic Scan Scanner comes with the English user's manual and OCR software CD included in the standard package.

Click here to learn about devices featuring multiple languages