ECTACO SpeechGuard TLX
Traveling can be an absolute pain! Trying to find your way around, interpreting another language, worrying about your phone & how you are going to access the internet! Stop worrying - we've got you completely covered with the new Ectaco SpeechGuard TLX!

This is an exceptional phone for exceptional situations.
This Military based, extra-tough, super-ruggedized Android 4 smartphone is perfect for military use, security specialists, tradesmen, hikers, linesmen, farmers, Emergency Service Personnel, mountaineers, cross-country skiers, or anyone travelling in remote areas. Being Water Proof, drop proof, and shock proof, the TLX is also suitable for those on or around water; perfect for fishing boats, use in the rain, or surf.

Easy to use and reliable; this rugged smartphone and voice translator will act as your own personal language assistant. A huge jump in travel technology, the SpeechGuard can receive FREE calls in over 135 countries, translate anything you say or see, and access tons of other useful travel tools.

Everything is preloaded on your SpeechGuard TLX, no need to worry about difficult setups or downloads.
The ECTACO SpeechGuard TLX features the following:

Voice activated audio phrasebook with 14,000 entries
English Talking Electronic Dictionary
Talking Translation Dictionary
Picture dictionary with 39 languages
Universal translator - A 183 language word translator
The Weather Channel
Massive English Dictionary
Language Translation Dictionary
Language learning Games
Audio Book and MP3 Player
Access to tons of extra programs via the application store
Skype
GPS navigation
2 Way Radio, connect with others at the push of a button
Waterproof, shockproof and dustproof
11 sensors:

Accelerometer
Linear acceleration
Gravity sensor
Magnetometer
Gyroscope
Rotation vector sensor
Orientation sensor
Light sensor
Pressure sensor
Proximity sensor
Temperature sensor

And much more!
Click here to get specifications for SpeechGuard TLX.
Order any ECTACO SpeechGuard TLX model listed below from the manufacturer and get the SpeechGuard Accessory Pack ($100 value) absolutely FREE!
These promo prices and offers are valid only until October 23, 2020.
Multilingual SpeechGuard TLX electronic translators:
Bilingual SpeechGuard TLX electronic translators:
Hey Guys, Jerry from Ectaco here showing you the really awesome and new Speechguard. Now the Speechguard is two firsts for Ectaco. It represents our first ever smartphone that we developed and our first ever completely ruggedized device. This is entirely waterproof. You can submerse it in water. It's entirely drop-proof. You can smash it, do whatever you want and it won't break. Now the Speechguard was first developed in 2004 for the military. The first version of this device was a very simple voice translator that they would keep on their hip, they could press a button and could say simple phrases like, "Drop the weapon," "Get on the ground," "Put your hands up," so on and so forth. Now as you can see, it has come a very long way. The Speechguard can do everything your iPhone or iPad can do, plus a whole lot more. Not only that, it's a fraction of the cost of both of those devices. For one, it's a "say anything" voice translator. This means that you can press a button, say anything you want, and it will translate it for you in both directions. We'll try it out here.
"You're welcome"
"Di niente"
"I'm sorry, I didn't catch you"
"Mi dispiace, non ho capito voi"
"I'm lost"
"Mi sono perso"
Perfect. Translates in great Italian. Now this one is English to Italian or Italian to English. But we do have about 40 languages currently available. Not only can it instantly translate my voice, but it can translate anything you see. Imagine walking by and seeing a sign where you can use this Speechguard, take a picture of that sign and it will translate it for you. It's not only great for a sign but if you have a customs declaration, menu, just about anything you need. If you do care to learn the language, Speechguard has a comprehensive language teaching program. It will teach you the language no matter whether you are a beginner or intermediate student, so it will basically read your pronunciation. You talk into the language teacher and it will let you know how you're doing every step of the way.
Now on the phone side of things, the Speechguard can accept free incoming calls in over a hundred and sixty different countries which is completely massive or you can just insert your own GSM SIM card and just use it like regular phone every day. Now the Speechguard also comes pre-included with a travel guide in there, so you can look up reviews and see what people are saying about different places and different locations to determine whether you really want to go there or not.
Now if you really need it, the Speechguard has an emergency SOS button and even emergency phone numbers and the phone number list is worldwide. So you can get phone numbers anywhere you need. If you do need to press the emergency SOS button which is on the side, it will instantly send out a message to five different contacts that you have on there with your GPS coordinates. Not only that, the integrated laser and the flashlight on the back will start blinking SOS in Morse code. You might have noticed the antenna on the top of the device. This is actually for the two-way radio. The two-way radio is really awesome because it doesn't require any internet connection or WIFI connection or anything like that. Not even the cell phone signal. So you could just press the "push to talk" button on the side and you could speak to anyone that has another Speechguard or any other radio device. It'll work just fine.
The second to last thing is the battery on the device will last you about five days on average usage. This is amazing. There is no other cell phone or table that comes close to that. So you have to charge it up maybe once every five days or so, you're good to go. Now the last thing, to show you guys the waterproof of this device, I got a vase here with some water in it, you could just drop it in like that. Now I'm only going to hold it here for a second or two but you could leave it here submerged for hours and it will work without any issue. I will just take a paper towel here and wipe the screen down like that. Press it back it on, slide it, and you can see it works without a problem. Now you can find the Speechguard and more at www.ectaco.com.
We provide FREE shipping within the continental US & Canada on ANY item $98 or more!
We provide worldwide delivery.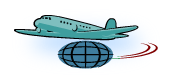 Shipping cost is determined by the weight & size dimensions of your purchased items, the distance between our warehouse and your shipping address, and how quickly you request the package be delivered.
Second business day delivery within the continental US is available for an additional $25.
Overnight delivery within the continental US is available for an additional $35.
We provide standard delivery to Europe & other parts of the world at no additional charge.