Check out our limited time deals for 2020!
The Partner 900 series devices represent our most advanced handhelds. Available in regular, Deluxe (additionally allows you to scan and translate any text) and Grand (additionally equipped with GPS receiver, a 4Gb SD card with US map and useful add-ons for your car) versions, they include everything you need to communicate and learn a foreign language. With their unsurpassed language management utilities, the 900 line offers a range of the most sought after resources including unbeatable talking translating Dictionaries, an Audio PhraseBook with over 14,000 pre-recorded phrases spoken aloud using True Voice human pronunciation, advanced Speech Recognition modules and a Talking 39 language Picture Dictionary with pronunciation for all words. In addition to a customizable bilingual interface and robust Audio and Video players, Partner 900 series devices also include our patented Language Teacher and U-Learn systems and the popular jetBook e-Book reader plus loads of extras.
Just imagine how fast you can learn a foreign language now! Go for it and choose the one you need today!
NO NEED FOR AN INTERNET CONNECTION - start using any device right out of the box!
Buy any Ectaco P900 series electronic translator and get free Accessory Pack ($100 value) with loads of extras! Additionally you get FREE shipping within the continental US & Canada on ANY item $98 or more!
These promo prices and offers are valid only until March 30, 2020.
Multilingual Partner 900 series electronic translators:
Bilingual Partner 900 PRO series electronic translators:
Bilingual Partner 900 series electronic translators:
SPECIAL PROMOTION FOR ECTACO MULTILINGUAL PARTNER 900 GRAND SERIES MODELS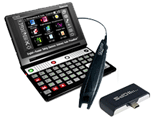 Each multilingual P900 Grand series electronic translator comes equipped with a GPS receiver plus you get the GPS maps for the whole region you want pre-loaded! Special offer applies too! Click here to learn more...
SD cards have been released for each and every of the language combinations listed above. They give you the option to install alternative languages onto your Partner P900.
Now, when in need of additional language pairs, you don't need to purchase a new device!
Simply get an SD card with the languages you need to supplement your ECTACO Partner P900.
AC adapter, rechargeable battery and corresponding SD card are included in the package.
If you need a product not listed as part of this promo - write us an