Contact us anytime! Give us a call at 1-347-728-1354 or to email.
FREE OVERNIGHT SHIPPING within the continental USA on December 22 and 23 on ANY item $299 or more!
How to translate:
Enter the word or paste it from the buffer into the window for translation. Press the corresponding "Translate into" button.
To delete - press the "Clear" button.
Part of speech abbreviations list.
For hints and advice on how to get accurate translations click here.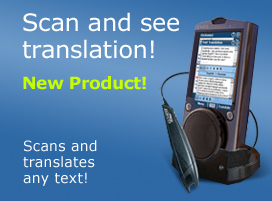 Partnership program

Become an Ectaco Online Dealer:
Earn 15-20% sales commission on Ectaco dictionaries via a text link
Ectaco, Inc. takes care of everything
Real time sales statistics
No costs from your side!

More information
Subscribe to news
Learn about new ECTACO dictionaries and translators.
Keep informed about the best discounts and gifts from the manufacturer!
Subscribe for free:



Pocket PC translation software for Windows Mobile Palm OS translation software
Windows translation software Mobile Phones translation software