Ectaco - Unlimited linguistic resources for all of your needs. Over 200 languages available.
Most popular languages:

Subscribe to news
Learn about new ECTACO dictionaries and translators.
Keep informed about the best discounts and gifts from the manufacturer!
Subscribe for free: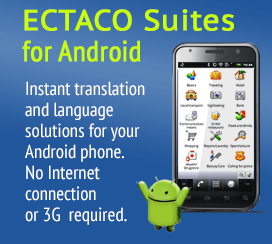 All products > Electronic Dictionaries > Travel Electronic Dictionaries for all languages
ECTACO

ECTACO

A unique combination of features together with stylish original design defines ECTACO electronic dictionaries. They are available for more than 35 world languages. You will find both high-end and value-priced models, as well as language solutions intended for professionals, kids, language learners, and other audiences.