Ectaco - Unlimited linguistic resources for all of your needs. Over 200 languages available.
Most popular languages:

Subscribe to news
Learn about new ECTACO dictionaries and translators.
Keep informed about the best discounts and gifts from the manufacturer!
Subscribe for free: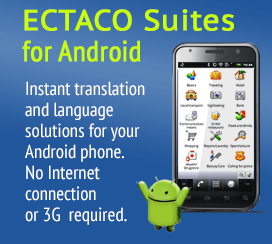 All products > Translation Software > Palm OS Software
Translation Software

Translation Software

Palm OS Dictionary software applications give you advanced linguistic solutions. We use the text to speech and speech recognition technologies to make our software fully suit your purposes. These products turn your electronic device computer into effective and reliable tools for translation and foreign language learning.

Foreign Language Learning

Foreign Language Learning

This Palm OS software category includes Flash cards, tutors and other language learning software titles. These programs will help you achieve flawless English pronunciation. Memorize words and work on your spelling, have an easy time learning, enjoy the friendly language study aids we have developed for you, make use of the ECTACO memorization games, progressive learning techniques and self tests.

Flash Cards

Flash Cards

Each FlashCards program, available for many new language pairs, is a seamless combination of educational exercises and entertaining games in one compact software application. Even if you are a current user, take advantage of our ever expanding software capabilities to add new languages. Pick up your new Palm OS today and enjoy our new games. Before you know it, you will be playing and talking in a whole new language!

Software Collections

Software Collections

Our software is bundled up to give you a host of exceptional Palm OS software titles in one pouch. Bundles are grouped by language and are economically appealing. Comprehensive and robust, these software collections will facilitate increased language efficiency and help you succeed in doing international business, visiting foreign states and learning new languages.